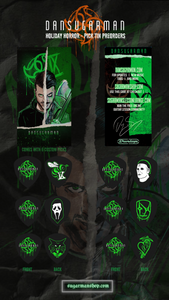 $35.00
Translation missing: en.products.product.regular_price
$45.00
Note: This is a pre-order, hoping that they will be finished being made and shipped by the Holidays! There is no guarantee that this item will arrive before Christmas, but we will do our darndest to make sure that happens!

Looking to downsize? Are you about that minimalist lifestyle?  Do you want to reduce your carbon footprint?  
Well, look no further.  Turn your large, cumbersome, hard earned dollar bills into tiny pieces of plastic in a small sardine tin.  You'll love how easily you'll lose what's inside.  
Get ready to find this in your couch cushions when you move back to your parents house next year.

SPECS:
- Get 6 Dunlop 2mm Ultex Flow XL Pick
- One badass custom pick tin to fit all kinds of goodies inside of \m/

BILLY WONGAZ GOLDEN TICKET | 3 LUCKY WINNERS WILL RECEIVE AN ICE NINE KILLS STAGE PICK IN THEIR CUSTOM SUGARMAN PICK TIN - REDEEMABLE AS A FREE HALF-HOUR PRIVATE GUITAR LESSON WITH DAN! [MUST CONTACT DAN UPON FINDING THE WINNING PICKS]