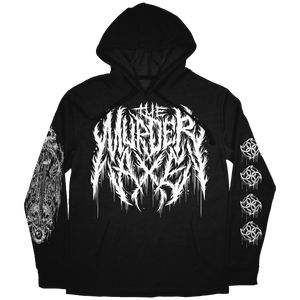 Murder Axe Pullover [Low Stock Alert]
"You need this damn pullover hoodie" - Val Kilmer

When's the last time you grew a full coat of fur, went out in a blizzard, and punched a tree until it splintered into a thousand pieces? Don't lie, I know it's been awhile. I've been watching you. 
But that one time you DID do that, remember when you then took those pieces, rebuilt a full tree (better than the original), magically produced a log cabin, and then burned it to the ground, all for the sake of Science & Wizardry?

Keep those nips nice and cozy, Harry Potter!

Get this friggin thang and make all living and undead beings envious of your swag \m/